Published on
Relationships from Entity Stream
Presentation
Authors
Sam Witteveen and I started the PyTorch and Deep Learning Singapore group on MeetUp back in August 2017. Just to prove that we intend to continue running this group, the second MeetUp was again hosted in Facebook's fine Singapore offices - and this time came complete with delicious food.
Following up from my discussion at the last event about the DeepMind paper "A simple neural network module for relational reasoning". I talked about some work I've been doing (in PyTorch) that I have tentatively titled "Relationships from Entity Stream", the code for which is in this github repo.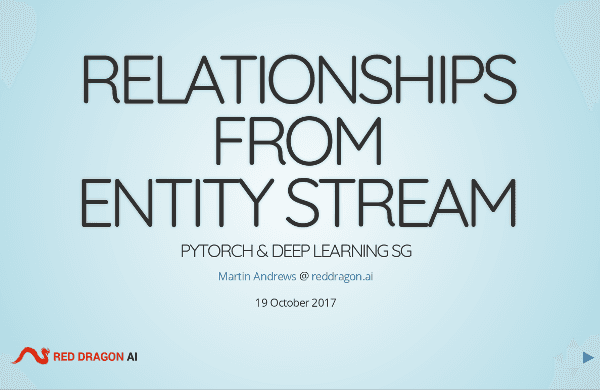 If there are any questions about the presentation please ask below, or contact me using the details given on the slides themselves.