Published on
TensorFlow.js (Google IO report)
Presentation
Authors
Presentation Link
Following the trip that Sam Witteveen and I made to Google IO in Mountain View (Silicon Valley, California), we held a Google-news themed TensorFlow event - appararently our fifteenth MeetUp, and the first one since the group grew beyond 2,500 people...
In addition to my talk on TensorFlow.js, Sam talked about TPUs (and gave a live demo of this amazing technology), and Dmitry Martyanov gave an interesting talk about sequence modelling (specifically where the time intervals between the events in the sequence are also variable).
The slides for my talk about TensorFlow.js are here :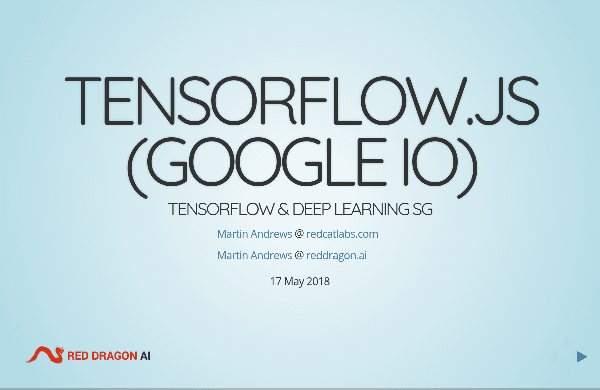 If there are any questions about the presentation please ask below, or contact me using the details given on the slides themselves.